Digital Soapbox (with pictures!)
I'll be the first to admit that I hate dogs. In fact, I hate them and their furry little asses with the white hot intensity of 1,000 suns. I can say this because I DO own some dogs and they piss me off to no end.
(If you're wondering why I don't get rid of them it's because A) my wife wont allow me, B) I'm a responsible individual and C) my wife wont allow me)
That said, I would like to share a few websites with my faithful readership.
Find the Pit Bull
Understand-A-Bull
It irks the living shit out of me to see otherwise intelligent, thoughtful people swallow fear-mongering tripe about a dog unquestioningly. I swear, some people seem to think of Pit Bulls as the animal equivalent of nitroglycerin—ready to go off at any second.
Come on people! Educate yourselves!
>steps off soapbox<
Oh yeah… here's some more shots of my f@&!ing dogs: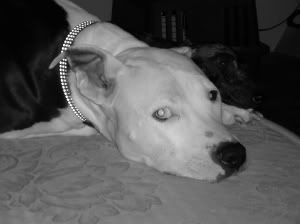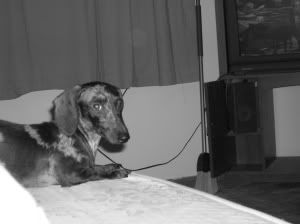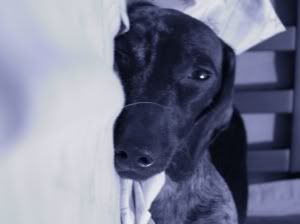 If anyone bothers to try and find the Pit Bull, please post how many tries it took you to find it... that or submit captions for my f@&!ing dog pictures.